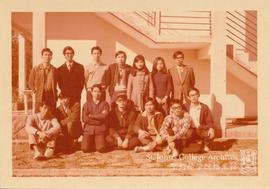 Trip to Ngong Ping, Lantau, in circa November 1969. Photo taken at HKU Geography Department Camp Site.
Left to right:
1st row: (1) Fred Chien, (3) Yang Kei Loong, (4) Alexander Kwan, (5) Yip Kam Tim, (6) Ng Pak Keung, (7) Alan Woo.
2nd row: (1) Chow Kwai Cheung, (2) Pang Wang Kee, (5) Judy Wong, (6) Margret Liu, (7) Wong Tak Cheung.